Raj Travels ( India )
Welcome to a Holiday in INDIA!
This site contains information for anyone interested in traveling to india this site will help you get to india and travel around india and have a true indian holiday. Read on and enjoy your stay! If you have comments or questions, feel free to contact me at
The Real India
To see the Real India with Raj Travels (India) is verry Different, and Raj Travels (India) know very well what peopel like it so it will be so great if u could Travel With Raj Travels India. Raj Travels ( India ) is Highely Recomendated in Japanies Guide Book year 2007-08.Kindly Visit our Webside to know more about our services in india.
HOW TO REACH
By Air - Indian airlines connects Agra to Delhi, Khajuraho and Varanasi. Kheria Airport is about 9 km. from Govt. of India Tourist Office.

By Rail - Agra is a major railway junction on main broad guage routes to the south, east and west. Two of the best trains viz. Shatabdi Express (between Delhi and Bhopal) and Taj Express (between Delhi and Gwalior) are available to access agra. Some other train servicing the city are : G.T. Express (New Delhi to Chennai), Dadar Express (Mumbai to Amritsar), Jhelum Express (Jammu to Pune), Kalinga Utkal Express (New Delhi to Puri), Karnataka Express (New Delhi to Trivendrum), Ujjani Express (Dehradoon to Ujjain) and Hyderabad Express (New Delhi to Hyderabad).

By Road - Agra, on cross roads of national highways 2, 3 and 11, is excellently connected to all parts of the country. Some important road distances from Agra are: Bharatpur-54 km., Delhi-204 km., Gwalior-119 km., Jaipur-232 km., Khajuraho-400 km., Lucknow-369 km., Mathura-450 km., Nainital-353 km., Varanasi-605 km. and Mussorie-417 km.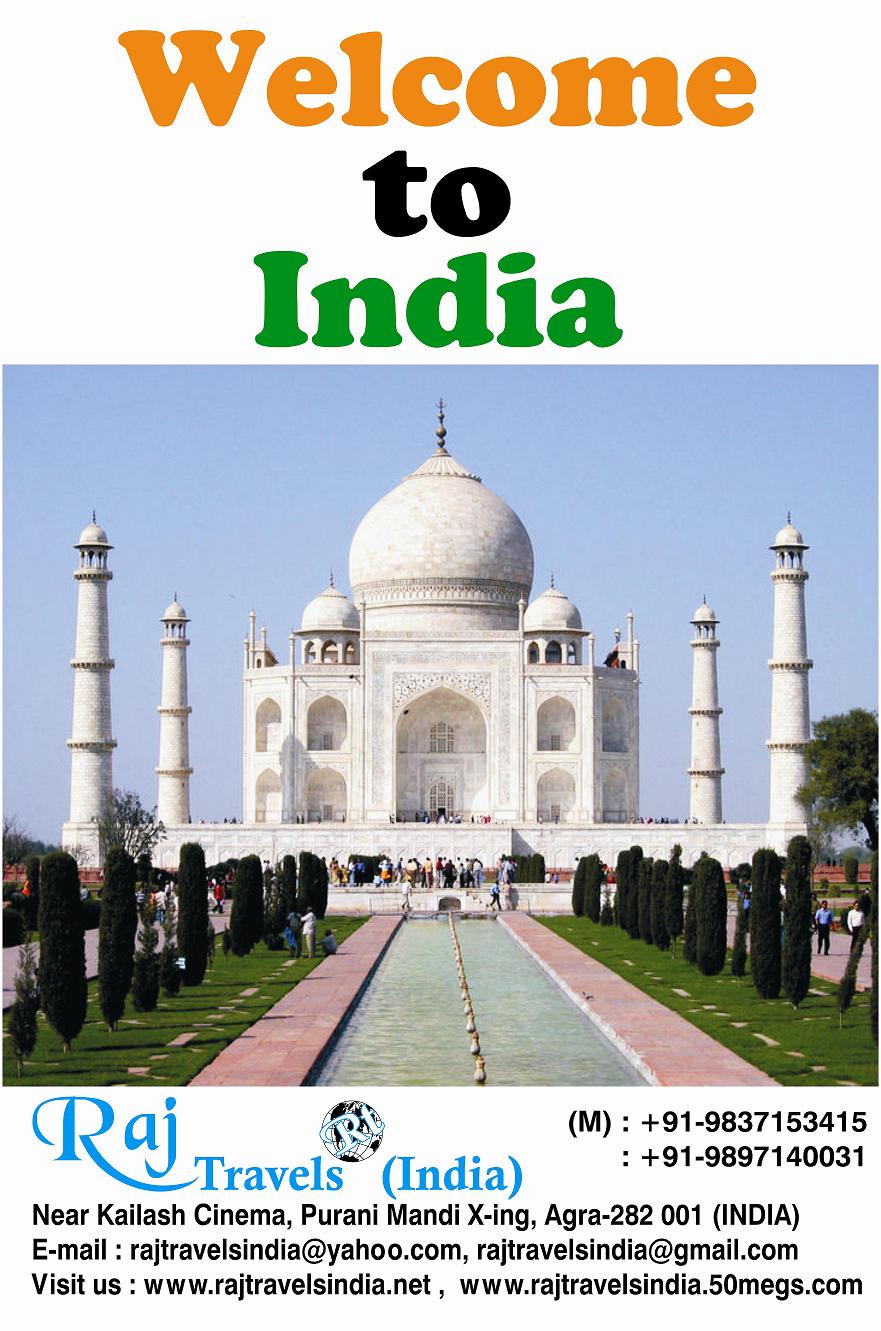 Thinking of coming to INDIA!!!!!!
Raj can help you with all your travel needs.
Airfares,

Hotel,

Railways experiences

Bus travel

Guided tours of the Real India.
OR if u want to go to Nepal he can also arrange things in Nepal too.
AGRA FORT
Agra Fort - The great Mughal Emperor Akbar commissioned the construction of the Agra Fort in 1565 A.D., although additions were made till the time of his grandson Shah Jahan. The forbidding exteriors of this fort height an inner pardise. The fort is crescent shaped, flattened on the east with a long, nearly straight wall facing the river. It has a total perimeter of 2.4 k.m., and is ringed by double castellated ramparts of red sandstone punctuated at regular intervals by bastions. A 9 mt. wide and 10 mt. deep moat surround the outer wall. There are number of exquisite building like the Moti Masjid-a white marvel mosque akin to a perfect pearl, Diwan-e-Am, Diwan-e-Khaas, Jehangir's Palace, Khaas Mahal, Shish Mahal and Musamman or Samman Burj-where Shahjahan was held captive in 1666 A.D.
TAJ MAHAL
The Taj Mahal in Agra, Uttar Pradesh,
Agra is the one of the prominent destinations of the World Tourism map with three heritage monuments-The Taj Mahal, Red Fort & Fatehpur Sikri. It is an ancient city located on the Yamuna River in India, within the state of Uttar Pradesh. It achieved prominence as the capital of the Mughal sovereigns from 1526 to 1658 and remains a major tourist destination, because of its many splendid Mughal-era buildings, most notably the Taj Mahal. Agra is famous for handicrafts products such as Inlay work on Marvel, Leather work, Footwear, Brasswear, Carpets, Jewelry, Zari and Embroidery work. It is also well known for Petha, Dalmoth and Gajak. A pleasant town with a comparatively slow pace, Agra is known for its superb inlay work on marble and soapstone by craftsmen who are descendants of those who worked under the Mughals. The city is also famous for its carpets, gold thread embroidery and leather shoes. Agra is located on the banks of the Yamuna River in India, within the state of Uttar Pradesh. On the north it is bounded by Mathura, on the south by Dhaulpur, on the east by Firozabad, and on the west by Bharatpur.
Agra is just 185 kms from Delhi and just 232 kms from Jaipur .